"In the garden, Autumn is, indeed the crowning glory of the year,
bringing us the fruition of months of thought and care and toil.
And at no season, safe perhaps in Daffodil time, do we get such
superb colour effects as from August to November."
- Rose G. Kingsley, The Autumn Garden
Looking out my window I am thinking about all the autumns I have enjoyed since I began blogging... It is so cool to have the seasons archived.. for me on photo bucket... so I have the seasons at my fingertips.
I remember this taken a couple of years ago.. I loved that blue-green pumpkin.... I saw one yesterday at Food Lion...
shucks. I should have gotten it then... And I also see my holiday tree needs attention!
The sideboard will be decidedly more dramatic when I haul out my gingko leaves I purchased at Pottery Barn last year.. I love those....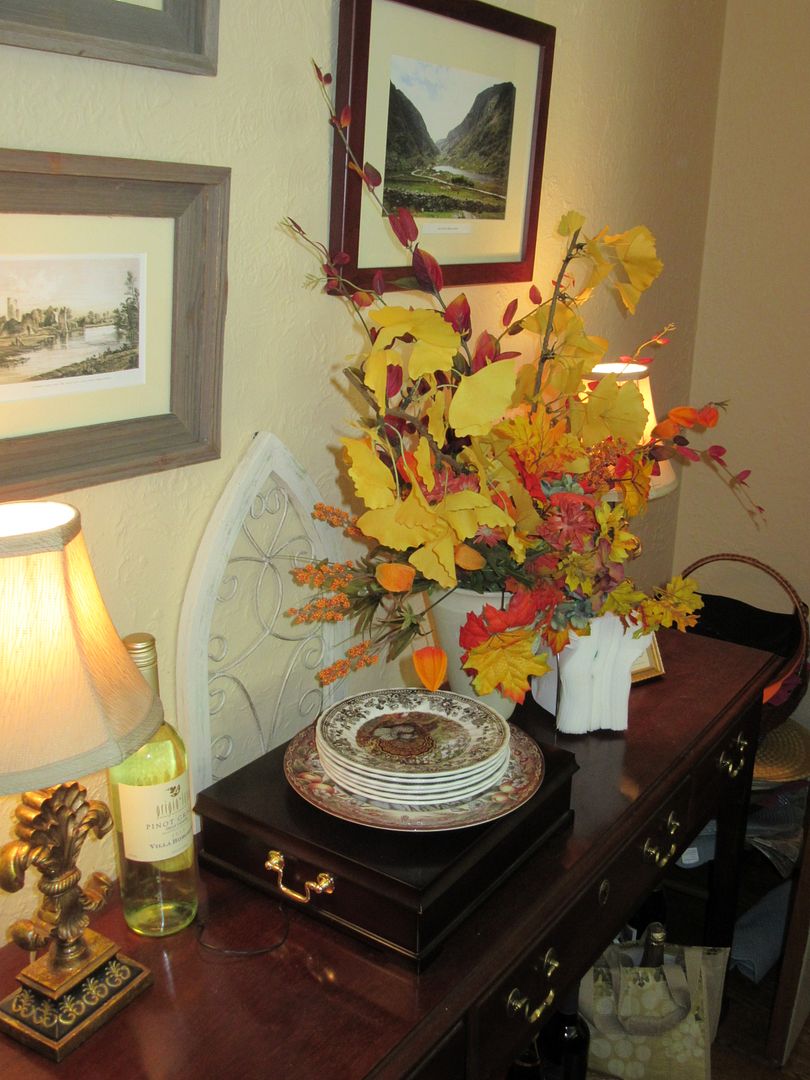 I must say I love the drama of fall!!!
I am reminded when the darling young man who installed our shutters walked through the house he said, ' Wow, you sure do like to decorate" To this day I dont really know what exactly he meant by it, but so what.. I do!!!And that wasnt even during the glamorous allure of autumn.. just the dog days of summer! Hahahaha!!! OH, yes, I'm ready to deck the halls for ...Fall!!!
SO I now have a detailed list for the next couple of days!!!
1. Pick out a colorful pumpkin
2. Autumnize the holiday tree in the doorway
3. Rummage through the autumn bins downstairs and haul out stunning leaves to highlight the rooms with golden glory!
4. Time to put the blue china away and bring out the black transferware... I love that for Autumn.....