I get excited when it's time for
Click the icon to return !
1. What would you say is your strongest sense? I would definitely say the sense of smell.. I have a very sensitive nose for someone who has really bad seasonal allergies... For example, we have a neighbor, mind you, who lives down the street and around the corner who has a swimming pool in his back yard. To heat it , he has rigged something up connected to his barbecue pit... and he burns the foulest wood and sometimes yard clippings .. now that smoke rises and wind blows it right over to our house where it descends and infiltrates our atmosphere.. He fired it up this morning because today is probably our last really warm day.. Suddenly our bedroom was filled with putrid smoke at about 5 a.m. and, of course, we had to close our windows and now turn on the a/c... This is a bane of life to me... but, alas, there is nothing that we can do about it... oh, we've called everyone... it is our of our control...one of several reasons we are thinking of moving!
2. Do you believe in the idea of a 'sixth sense'? Why or why not?
If you are speaking if intuition then yes, I am very intuitive,,, it has actually saved our bacon a few times... ie, the 2008 economic crisis..but I cannot really divide where it may be intuition or just God's blessing on me.. through his Spirit. I do know it is because of His deep love for me for when it kicks in, it is a huge blessing...here is an example.. I inherited my mom's apple dishes which I love but four of the cups and saucers were missing. I really wished to replace them because we always used these dishes for Thanksgiving and what is pumpkin pie without coffee. One day I was driving home from the grocery store and something told me , "Stop in at the consignment shop" I mean it was a very strong impulse even though I had perishables in the car I thought well , maybe, if I spin through quickly. I strolled down the aisle toward the dining implements.. my favorite area of any consignment ... I usually have my eye pealed for transfer ware... and there they were 4 brand spanking new looking Apple coffee cups and saucers.. for 8 dollars..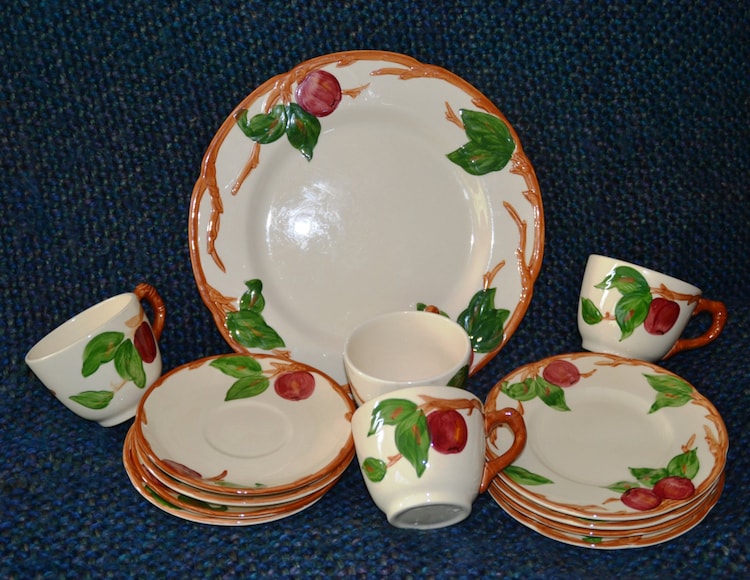 Abba Father is awesome and so loving! TO Him be the glory!
3. When do you most feel like a slave to time? Explain.
During these seasons of Bible study.... when I am small group leader.. because I really dedicate myself to doing the best job I can, and I do believe that in that the Holy Spirit brings things to me that connect dots of understanding that are so wonderful... last week it was a Ravi Zacharias video I happened to watch... and as I was flipping through the channels of tv one afternoon it was Robert Morris's teaching on sin... the differences between transgression and iniquity.. I gather all my resources,commentaries, Bible concordances, and dictionaries, and my Greek lexicon Bible because I never know what fascinating item will pop out on the page.. I love this in depth study, but it does take time..
4. Have you ever worked in a restaurant? How would you rate the experience? If you could own a restaurant what kind would it be? NO, I know I could never handle those horribly laden trays.. I would have law suit after law suit heaped upon my head. By the same token, I would have no interest in owning a restaurant... all the investment of money, time, sweat equity, and probably blood and tears, is not for me.. When I love to dine out it is always Chinese...and Id never attempt to try to run a Chinese restaurant!
5. Ever traced your family tree? Share something interesting you learned there.
I love genealogy... and I am fortunate to have access to many sources.. On my dad's side a relative had traced our line back to Braunschweig, Germany...
I had 5 great great grand fathers named Jacob.. the first of which lived in Germany and three of which are buried in a family cemetery in SW Virginia. On mom's side her sir name is Cox and we actually have a Cox book printed in the 1950's about the Cox Clan how they were Quakers from Cotswold area of England
(Quaker Meeting House in Cotswold)
who settled in Pa. in the late 1700's and my great great grandfather and his brother served in the Confederacy. The brother was captured and held in a POW camp in the north. After the war upon his release he was making the long trek home and was so weak and ill a kindly family took him in and served him dinner.. He ate too much, foundered and died on the spot.
My Irish side of the family are Higgins... and I recently tried yet once again after many previous attempts to push back beyond a John Higgins who married Fanny Boggess whose previous family were of the founding families of Virginia and whose land marched along side of the farm of John Smith,,, who married Pocahontas.. Finally upon study someone had researched and found John Higgin's line reached back several more generations to Barnstable, Massachusetts.. right outside of Plymouth.. His ancestor Richard arrived there in 1622 and bought a homestead for 22 bushels of corn!
6. What did your childhood bedroom look like?My bedroom was also the guest room... so I had very little stuff just sitting around.. There was a corner desk that I used to do my homework but I had organizational things to keep my "stuff" and would put it away in the closet when we had company. The walls were painted a soft golden yellow sort of a country golden color... and the drapes were an early American print fabric with medallions or oval miniature like paintings of Dolly Madison.. the rest of the print was very early America style print....my goodness I found it...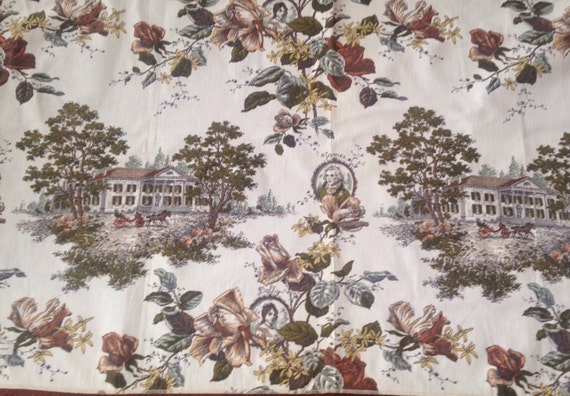 The knick knacks were early American figures, my lamp had a bald eagle on it.. and the bedspread was a green damask... Not very little girlish,, but as an only child I was a pensive reader.. not very athletic or rambustious at all. When I played with my dolls I had the run of the house as long as I put everything away when I was finished!
7. Anyone who knows me knows I love everything British, Scottish, and Irish!!
8. Insert your own random thought here.
Hubs and I were have just returned home from looking at something that takes me hugely by surprise... Gas logs, with a new fireplace doors/screen..
This is the door insert I love in bronze...the Hamilton.. I name it for future reference.
I have been wanting gas logs for so long and I do believe that since I didn't make it to the beach Hubs is working this out for me and I'm taking it to the limit. I will have what I want or nothing.. Let the battle commence HEHEH.. No I don't even think there will be a battle... He is being terribly sweet about it.. the battle will be getting it done sooner rather than later... HMMMM!